How-To View Your Invoice - Aftermarket
Visit the Subscription Manager website: https://submgr.am.fcawitech.com
Fill in your username and password, then click Sign in or press ENTER on your keyboard
On the left-hand side, select Orders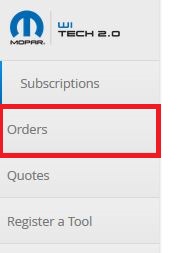 4. Find the order you want details for and select the blue download arrow

5. Once the order details have been downloaded, a prompt will ask you to open or save the document.
Select Open if you want to view the Order Details
Select Save if you want to save a copy of the Order Details
Posted:

Ryan Clauson

- Wed, Nov 15, 2017.
This article has been viewed 2934 times.
Online URL: https://kb.fcawitech.com/article/how-to-view-your-invoice-aftermarket-798.html
Powered by PHPKB (Knowledge Base Software)